BGU receive Making a Difference Award
Bolton Green Umbrella | Tuesday 26 June 2018 | 0 Comments
Bolton Green Umbrella were presented with a "Making a Difference Award" from Bolton Council in recognition of the work done to get communities working together, and recognising the huge contribution made by volunteers involved in environmental activities all over the town.
Thanks to Bolton Council – everyone feels better when their work is recognised.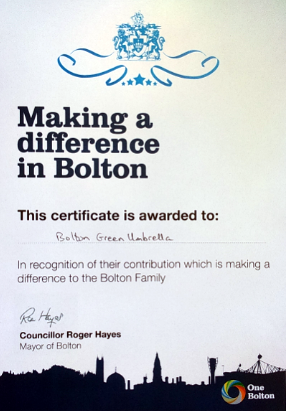 More Bolton Green Umbrella News
Bolton Green Umbrella Newsletter
We send a regular newsletter with information about groups, events and volunteering opportunities. We'd love to add your name to our subscribers.